Research article
Open Access
Self-consistent field theory for the interactions between keratin intermediate filaments
Received: 2 May 2013
Accepted: 22 August 2013
Published: 5 September 2013
Abstract
Background
Keratins are important structural proteins found in skin, hair and nails. Keratin Intermediate Filaments are major components of corneocytes, nonviable horny cells of the Stratum Corneum, the outermost layer of skin. It is considered that interactions between unstructured domains of Keratin Intermediate Filaments are the key factor in maintaining the elasticity of the skin.
Results
We have developed a model for the interactions between keratin intermediate filaments based on self-consistent field theory. The intermediate filaments are represented by charged surfaces, and the disordered terminal domains of the keratins are represented by charged heteropolymers grafted to these surfaces. We estimate the system is close to a charge compensation point where the heteropolymer grafting density is matched to the surface charge density. Using a protein model with amino acid resolution for the terminal domains, we find that the terminal chains can mediate a weak attraction between the keratin surfaces. The origin of the attraction is a combination of bridging and electrostatics. The attraction disappears when the system moves away from the charge compensation point, or when excess small ions and/or NMF-representing free amino acids are added.
Conclusions
These results are in concordance with experimental observations, and support the idea that the interaction between keratin filaments, and ultimately in part the elastic properties of the keratin-containing tissue, is controlled by a combination of the physico-chemical properties of the disordered terminal domains and the composition of the medium in the inter-filament region.
Keywords
Stratum corneumSkin keratinsIntermediate filamentsUnstructured terminal domainsBridging attraction
Background
The outermost layer of skin, the stratum corneum (SC), is often described as organised into a 'bricks-and-mortar' type structure, where the mortar represents the self-assembled lipid lamellae and the bricks refer to the protein-rich corneocytes [1–4]. Corneocytes are nonviable disk-shaped flat horny cells mainly composed of keratin proteins, organised in complex intermediate filament (IF) networks. Keratins, in turn, are important structural proteins which confer stiffness to many biological tissues such as skin, nails and hair. There are 54 functional human keratin genes, of which 28 are type I (acidic) keratin genes and 26 are type II (neutral and basic) keratin genes. A new systematic nomenclature and functional role of keratins was presented by Schweizer et al. [5], Moll et al. [6], and Gu and Coulombe [7].
Keratin monomers consist of central
α
-helical rod domains of similar substructure (≈310 amino acids) and two disordered (unstructured) glycine-rich N- and C-terminal domains of variable size. Two keratin polypeptides associate in a parallel arrangement to form an ≈50 nm long coiled coil dimer, consisting of two different types of keratins: one acidic (type I) and one neutral-basic (type II). The most frequent keratin (K) dimer expressed in the SC and the upper epidermis is the K1/K10 pair [
8
–
10
]. The two coiled-coil heterodimers further self-assemble into tetramers by packing into an antiparallel half-staggered configuration. Tetramers, in turn, aggregate end-to-end forming protofilaments with a diameter around 2– 3 nm. Two protofilaments make a protofibril with diameter of order 4– 5 nm; four of these assemble laterally to form the keratin IF with diameter of order 8– 10 nm [
7
,
10
–
22
]. Schematically, a keratin IF could be pictured as a long cylindrical object filled mainly by
α
-helical coiled coils domains, and decorated on the surface by disordered N- and C-terminal domains extending into the surrounding solution. An illustration of the IF hierarchical organisation is depicted in Figure
1
.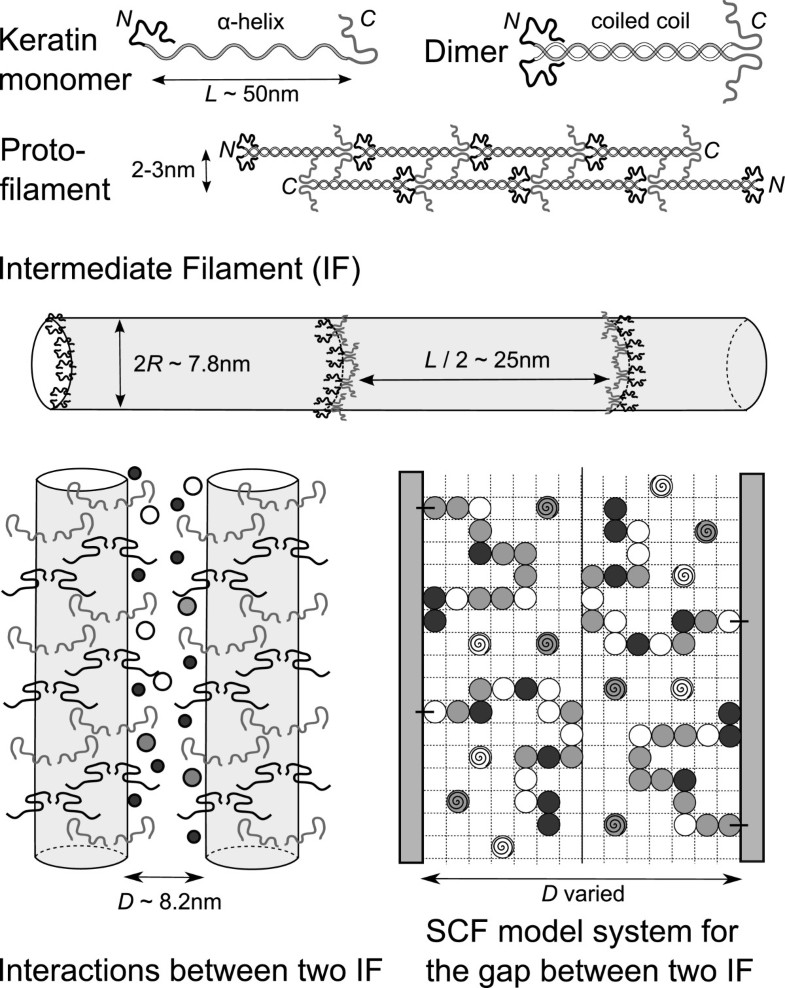 Inside the corneocytes IFs are surrounded by a complex mixture of water, ions, free amino acids and other low molecular weight water soluble non-ionic compounds; this mixture is sometimes referred to as the "Natural Moisturising Factor" (NMF). NMF plays an important role in skin moisturisation and in maintaining the physico-chemical properties of the skin, such as elasticity and permeability [23–30]; and it results from proteolytic degradation of filaggrin, a histidine-rich protein [23–30]. A reduced amount of NMF correlates with dry, flaky and itchy skin. Dry skin conditions may be a cosmetic problem triggered by natural (seasonal) changes of SC physical properties [24, 26], but they may escalate to severe inflammatory skin disorders such as atopic dermatitis [26, 28], xerosis [26, 29] ichthyosis [28, 30] and psoriasis [28, 30].
Jokura et al. [23] studied the effect of NMF on SC elasticity using NMR spectroscopy, rheology and electron microscopy. The authors observed that treating an excised SC sample with water releases NMF and leads to a keratin IF mobility reduction, and overall corneocyte rigidity. Electron micrograph evidence suggested that in the absence of NMF, keratin filaments tend to associated more tightly with each other. Further hydration of the sample does not improve the mobility of the fibers. However, the original IF mobility conditions were partially restored by application of amino acid solutions. The authors compared the effect of different types of amino acids on the restoration of the SC elastic properties: neutral or basic amino acids, such as glycine or lysine, provided remarkable recovery of SC elasticity. In contrast, acidic amino acid, such as aspartic acid, was not as effective.
These findings suggested the hypothesis that loss of SC elasticity is due to increased intermolecular attractive forces between keratin filaments. In physiological conditions, NMF plays the important role to reduce these attractive forces, and to ensure SC elasticity. It is tempting to argue the protruding non-helical regions (unstructured N- and C- domains) mediate the interaction between the NMF-rich matrix and the IFs. In this work we present a modelling study of the interactions between keratin IFs suspended in different media: (i) a salt free solution mimicking the NMF depleted system, and the effects of (ii) added salt and (iii) NMF-rich amino acid solution.
Conclusions
We have applied the SCF approach to study interactions of the unstructured N and C terminal domains of skin keratin (K1/K10) Intermediate Filaments. Positively charged N and C domains were grafted onto negatively charged IF cores, represented by planar surfaces. We have considered two models for N and C tails, characterized by a different level of detail: the coarse block-copolymer PG model and the more detailed AA model, which is based on the amino acid sequence. In spite of the apparent simplicity of the PG model, it qualitatively captures most of the effects observed for the more complex AA model. We have presented monomer density profiles for the N and C tails and, separately, profiles for their basic residues only. We have compared and discussed interaction potential profiles for IF surfaces with attached tails at various surface charge densities, ionic strengths, and for the solution of free amino acids representing NMF. We have also attempted to clarify the role of each type of terminal domains considering N and C chains separately. Our main findings are summarized as follows.
(A)

Volume fraction profiles for N and C domains show that the monomers of both types of the chains are mostly concentrated near the surface, so the chain extension does not exceed r≈20 a 0=8 nm (Figure 3). The basic residues of the terminal domains, which are located near the end of the chains, have the highest density at the (oppositely charged) surface (Figure 4). These results indicate that the chains form either loops or bridges with another surface. Such bridges lead to attractive interactions between the two IF surfaces at short separations. N tails are more hydrophobic and the profiles for N tails are more narrow compared to those for C tails and extend for no more than r≈15 a 0 from the surface. The interaction potential for surfaces covered by N domain type only reveals that the attractive interactions between the surfaces are stronger than those when both types of the domains considered together and appear at shorter separations (Figure 8). So we conclude that N tails work as the "glue" between IF surfaces. C tails are slightly more polar than N tails and extend slightly further into the solution (r≈20 a 0). The interactions between surfaces with only C tails grafted show much weaker and more long-ranged attraction. So, we propose that C chains are "responsible" for keeping a certain distance between IF. Hence, each type of the terminal domains has its specific role and their combination retain IF at certain distance.

(B)

When the charge of the IF surface is neutralized by the charge on the grafted chains and the ionic strength is low, IFs experience attractive force between each other at surface separations D≈15– 35 a 0 (6– 14 nm) due to bridging effect of grafted terminal domains. This attraction becomes weaker and turns into repulsion with increase of ionic strength as a result of electrostatic screening. The repulsion become stronger and longer ranged when simple aqueous electrolyte solution between the IF surfaces is replaced by a complex "broth" of amino acids—a coarse grained representation of NMF in 30% water. However, we can not confirm experimental observations of Jokura et al. [23] that neutral amino acids alone produce a similar effect. We have found that charged small species such as ions or charged amino acids are necessary components of NMF and their role is to decrease electrostatic forces between IF. The effect of salt when ions differ not only by their charge but also by size should be investigated using more complicated model for salt molecules or/and by other simulation methods.

(C)

At low ionic strength the attraction between the IF surfaces can be obtained only when the charge on the surface is fully compensated by the charge on the chains and ions. That occurs only when the surface charge is equal or slightly higher than the charge of the grafted terminal domains. Therefore, we propose that: (i) negative charge of the IF helical part is equal in absolute value or slightly higher than the positive charge of the IF terminal domains; (ii) the function of NMF is to prevent the attractive forces between protruding terminal domains and IF helical cores. When NMF are removed or their amount is highly reduced these attractive forces "glue" keratin Intermediate Filaments and reduce the elasticity of the corneocytes.
Abbreviations
NMF:

Natural moisturizing factors
SC:

Stratum corneum
K:

Keratin
K1/K10:

Keratin 1/Keratin 10
IF:

Intermediate filament
SCF:

Self-consistent field
AA:

Amino acid model for unstructured domains
PG:

Polyglycine model for unstructured domains.
Declarations
Acknowledgements
The authors thank Chinmay Das, Peter Olmsted, Eugene Pashkovski, Jan Marzinek, and Frans Leermakers for useful discussions. Financial support from ERDF (grant B/680) and SoftComp (grant RV(02)-11/390) is gratefully acknowledged.
Authors' Affiliations
(1)
Unilever R&D Port Sunlight, Bebington, UK
(2)
School of Chemical Engineering & Analytical Science, The University of Manchester, Manchester, UK
(3)
Institut Curie Centre de Recherche, CNRS UMR 168 - UPMC, Paris, France
Copyright
© Akinshina et al.; licensee BioMed Central Ltd. 2013
This article is published under license to BioMed Central Ltd. This is an Open Access article distributed under the terms of the Creative Commons Attribution License(http://creativecommons.org/licenses/by/2.0), which permits unrestricted use, distribution, and reproduction in any medium, provided the original work is properly cited.