Correspondence

Open Access
Life at the mesoscale: the self-organised cytoplasm and nucleoplasm
Received: 23 October 2014
Accepted: 17 February 2015
Published: 25 February 2015
Abstract
The cell contains highly dynamic structures exploiting physical principles of self-organisation at the mesoscale (100 nm to 10 μm). Examples include non-membrane bound cytoplasmic bodies, cytoskeleton-based motor networks and multi-scale chromatin organisation. The challenges of mesoscale self-organisation were discussed at a CECAM workshop in July 2014. Biologists need approaches to observe highly dynamic, low affinity, low specificity associations and to perturb single structures, while biological physicists and biomathematicians need to work closely with biologists to build and validate quantitative models. A table of terminology is included to facilitate multidisciplinary efforts to reveal the richness and diversity of mesoscale cell biology.
Keywords
Workshop reportSelf-organisationMesoscaleCell biologyCytoskeletonCytoplasmic bodiesChromatin
Background
The workshop "Life at the mesoscale: The self-organised cytoplasm and nucleoplasm" took place over 3 days in July 2014 at the home of CECAM (Centre Européen de Calcule Atomique et Moléculaire) in Lausanne, Switzerland. It brought together 30 physicists, molecular cell biologists and mathematicians with the aim of combining skills and approaches to study self-organisation in the cytoplasm and nucleoplasm of cells. The workshop was organised by Richard Sear, Trevor Dale, Andrew Flaus and Ignacio Pagonabarraga.
Traditionally, the cytoplasm has been viewed as a well mixed and spatially homogeneous mixture of monomers and small complexes. Similarly, the nucleoplasm has been viewed as a uniform chromosome "spaghetti". However, rapid developments in light microscopy and "omics" data correlations are giving us unprecedented access to cell structure and dynamics on mesoscale length scales.
Here we define the mesoscale as being length scales larger than individual molecular machines such as ribosomes, but no larger than the size of the cell. In Figure
1
we place this range of length scales in context. With new experimental techniques we can see that on these length scales the cytoplasm and nucleoplasm are neither uniform nor static, but are highly organised and often highly dynamic. We have been dramatically underestimating the extent of this mesoscale self-organisation, and its role in key processes of the cell function. As our understanding increases, the number of mesoscale structures we are aware of is growing. We have illustrated a selection of the structures discussed at the workshop in Figure
2
. This figure illustrates "mesoscale cell biology" in the sense that it is organisation of the cell interior on mid-range length scales.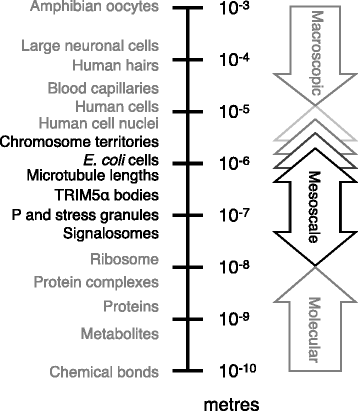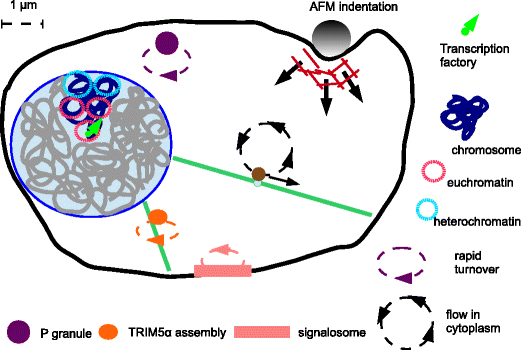 The structures illustrated in Figure 2 are self-organised. Their formation is due to their molecular components physically interacting and consuming energy, not due to external forces. Proteins, RNA, and DNA molecules self-organise into a wide variety of clusters, bodies, cages, domains, territories and long range networks that are often highly dynamic; proteins may have residence times in these assemblies of less than a minute. Many of these assembles can be dynamically formed and remodeled depending on signals and cellular conditions, and these processes typically involve active processes that consume energy.
To properly understand this mesoscale self-organisation requires collecting high resolution observations and combining them with quantitative, predictive models. We believe that collaboration among cell biologists, biological physicists and mathematicians will be essential to achieve this. The workshop aimed to catalyse this collaboration.
CECAM is a centre for organising workshops based at EPFL (Ecole Polytechnique Fédérale de Lausanne), in Lausanne, Switzerland. The centre has its origin in the field of the computer simulations of liquids but now organises workshops on a variety of topics that include a significant component of computational physics or chemistry. In this meeting report, we will start by highlighting the problem of scientists from different backgrounds using different terminology for highly analogous structures, or the same word for structures with rather different properties. We will then summarise the key points discussed in the workshop. We end with a short summary of what the workshop concluded were the most important advances required in this new field of mesoscale biology.
Conclusions
We would like to end this report as we did the workshop, by considering what developments would significantly advance the field of self-organisation in the cytoplasm and the nucleoplasm. The participants came up with five:
1.

Imaging improvements such as new super-resolution microscopy technologies to observe individual actin filaments and microtubules in live cells, in order to understand the dynamics at the single filament level.

2.

Genomics and microscopy data for chromosome dynamics on 10 nm to 1 μm length scales, and at the associated time scales, in order to model genome processes.

3.

Quantitative biochemical cataloguing and modelling of the internal structure and composition of cytoplasmic bodies within cells.

4.

Development of approaches that allow targeted perturbations to probe spatiotemporal dynamics within cells, such as optogenetics

5.

Expansion of opportunities for like-minded biologists and physicists with interests in related areas to meet and develop shared understanding and initiate collaborations.
These advances are essentially the acquistion of better experimental datasets, and the improved use of this data to build and validate quantitative models of self-association and motor-driven function at the mesoscale. The underlying challenge is to observe and understand the highly dynamic, low affinity and low specificity associations of the self-organised cytoplasm and nucleoplasm. Fulfilling this goal will naturally require close multidisciplinary interactions between biologists and physicists to understand the forces and processes involved, and see both embracing the fascinating richness and diversity of life at the mesoscale.
Abbreviations
TRIM:

Tripartite motif family
CECAM:

Centre Européen de Calcule Atomique et Moléculaire
EPFL:

Ecole Polytechnique Fédérale de Lausanne
MEX-5:

Muscle excess 5 protein
STORM:

Stochastic optical reconstruction microscopy
HIV:

Human immunodeficiency virus
3C:

Chromosome conformational capture
HiC:

High resolution chromosome conformational capture
ODE:

Ordinary differential equation
PDE:

Partial differential equation
Declarations
Acknowledgements
The workshop was funded and supported by the Centre Européen de Calcul Atomique et Moléculaire (CECAM), Ecole Polytechnique Fédérale de Lausanne, 1015 Lausanne, Switzerland.
Authors' Affiliations
(1)
Department of Physics, University of Surrey, Guildford, UK
(2)
Departament de Fisica Fonamental, University of Barcelona, Barcelona, Spain
(3)
Centre for Chromosome Biology, School of Life Sciences, National University of Ireland Galway, Galway, Ireland
Copyright
© Sear et al.; licensee BioMed Central. 2015
This is an Open Access article distributed under the terms of the Creative Commons Attribution License (http://creativecommons.org/licenses/by/4.0), which permits unrestricted use, distribution, and reproduction in any medium, provided the original work is properly credited. The Creative Commons Public Domain Dedication waiver (http://creativecommons.org/publicdomain/zero/1.0/) applies to the data made available in this article, unless otherwise stated.